How to open a real account XM! It only takes 2 minutes! Can be traded immediately with bonus
Open a real XM account with just 5 steps!
If you open a XM account with a maximum of 888 leverage, you can actually make big money with only a small capital to start with!
A real XM account can opened within 2 minutes by registering simple information, you can use the free software "MT4" and technical indicators with superior functionality.
You can refer to how to open a real account from Smartphones at the link below.
Related posts: How to open a real account (on smartphones). Complete registration for free account within 2 minutes
Step 1: Click to open a real XM account
Go to XM official website .
Click on "OPEN ACCOUNT" in the center of the home screen.

Step 2: Enter your personal information on the registration screen
Click the "OPEN ACCOUNT" button, fill in the necessary fields on the registration screen.
After entering, click "Continue to step 2."
Enter simple information with Latin characters.
First name:

Last name:

Preferred language:

(E.g) Englist (Select from list)

Phone:

E-mail:

(e.g) ****@gmail.com
Select a preferred account type.

Step 3: Fill in the required fields on the registration screen
Enter information such as contact information … required when opening a real account.
Here also enter information in Latin words.

Enter date of birth only. The rest is automatically filled.
Date of birth:

(e.g) 13-5-1981

Next, enter the residential address, street number, postal code.
City/Town:

Residential Adrress:

Postal/zip code:

You are a US citizen for tax purposes?:

Select "No"

Select the preferred account.

Account base currency

(e.g) USD

Leverage:

(e.g) 1:888 (normally set as 888)

Account Bonus:

(e.g) Yes, I wish to receive the bonus
XM has three types of accounts: Micro/Standard/XM Zero.
It's usually a good idea to choose a standard account (1 lot = 100,000 currency) but for beginners you should choose a micro account (1 lot = 1,000 currency) to minimize the risk.
Zero accounts are not eligible for the bonus, therefore, when opening for the first time, selecting a standard account or micro account will be more profitable.
Related posts: Comparing XM accounts. Differences between MICRO account, STANDARD account and ZERO account

Step 4: Enter investor information
Enter investor information.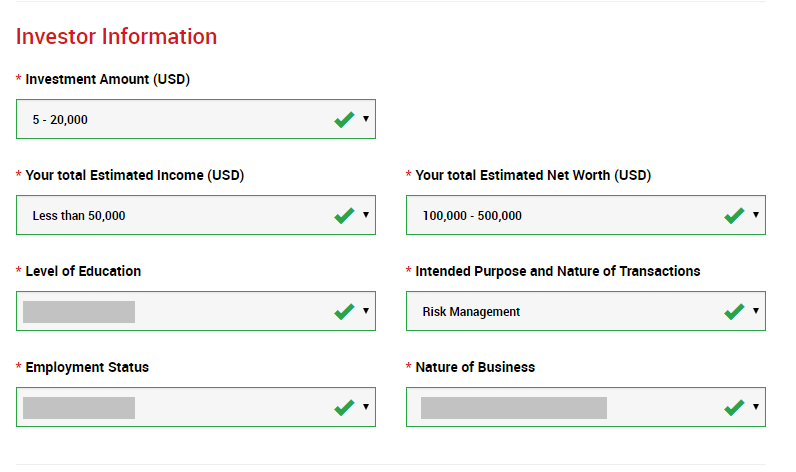 Investment amount (USD):

Choose the investment volume in USD

Your total estimated income (USD):

Select annual revenue in USD

Your total estimated networth (USD):

Select total estimated in USD

Level of education:

Select your highest education level

Intended purpose and nature of transaction:

Select the current recruitment method

Employment Status:

Select your current employment status

Nature of Business:

Select your current nature of business

Step 5: Enter your trading knowledge and experience and password
"Financial companies are required to know the customer's trading knowledge," it is a regulation in trading financial instruments, so you have to select the transaction knowledge field.
Enter your preferred password in the "Account Password" field. Enter the password again in the "Password confirmation" field.
After checking the 3 confirmation boxes, click on "OPEN ACCOUNT".

If all the information is valid then you will receive a confirmation email in your e-mail address you have registered.
Click on the "Confirm E-mail Address" button in the e-mail message received from XM, then you have completed opening a real account.

You will receive an email again about "MT4 ID Information".
Then download "MT4" XM trading tool, you can start trading with a real account based on the issued ID and self-generated login password.
Steps to follow after the real account has been opened
After completing the account opening, you can start trading by uploading the your personal verification documents and depositing into your account.
※ When depositing funds and making a real transaction, you will need to submit an account holder's verification documents. You will be officially activated after the verification is processed.)
You can start trading from the following link
---