How to make a deposit into XM Group / Support immediate deposit in real time
Depositing fund to XM Group is very simple completed in 2 minutes.
In addition to depositing fund into XM Group by credit card, you can also deposit through many different ways such as VISA debit card, bank transfer, all supporting immediate deposit.
Before deposit
To trade with a real account, you will first need to upload account holder's identification documents
If you have not uploaded your account identification documents, you need to activate your account at the reference page How to upload account holder's identification documents.
Once your account is activated, the menu on the right of My account screen will show "Account validated".
Step 1: Click on the Deposit button on my account
After logging into My account from XM Group official website, you click on "Deposit" on the menu at the top of the screen.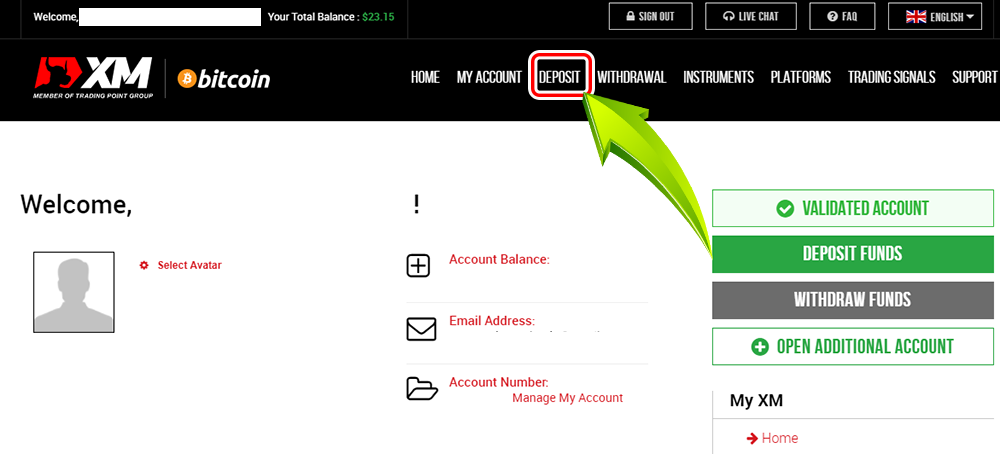 Step 2: Select deposit method
Select a preferred deposit method (Click on the deposit button).
Credit card (Including VISA debit card) is a recommended credit deposit method because it is fairly simple and takes little time to confirm deposit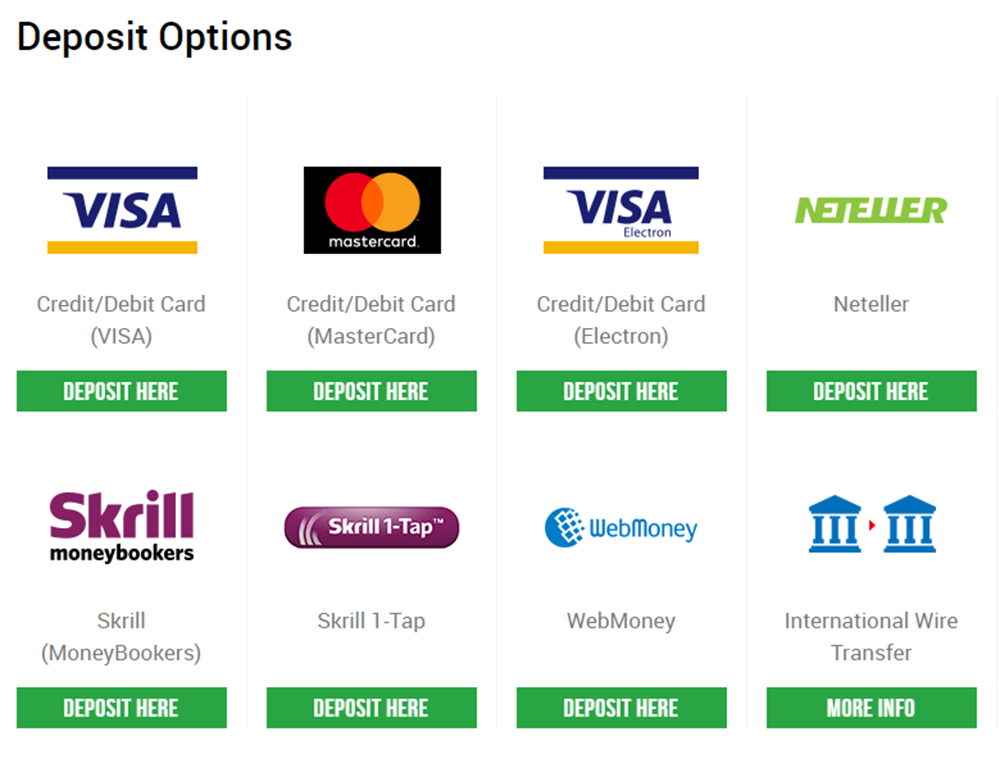 Deposit method
Responding time

Deposit fees
Credit card
Debit card
Immediate
Free
International bank transfer
3~5 working days
Free
Tranfer fees paid by senders

Skrill
(MoneyBookers)

Immediate
Within 1 hours

Free
Tranfer fees paid by senders
Neteller
Immediate
Within 1 hours
Free
Tranfer fees paid by senders

Step 3: Enter the deposit amount
Below, I will introduce about deposit method by credit / debit card.
Enter the amount you wish to deposit into your account
Use your registered currency when opening an account.※ If you have registered the trading currency in USD then you will enter the amount in US dollars.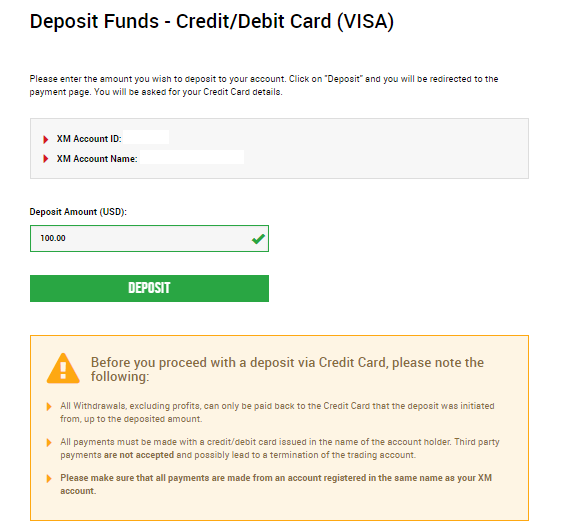 Check whether your account ID, name and deposit amout are correct.
Then, click on "deposit". The system will automatically jump to the confirmation page. If the information is correct then you click on "Confirm".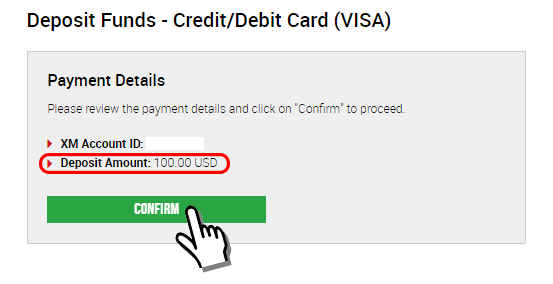 Step 4: Enter credit card information
Next because the screen will show credit card information page, so please enter your credit card information (or debit card ).
If you have deposited before with credit card, some previous information should be saved. Confirm the information such as expiry period, … make sure everything is correct.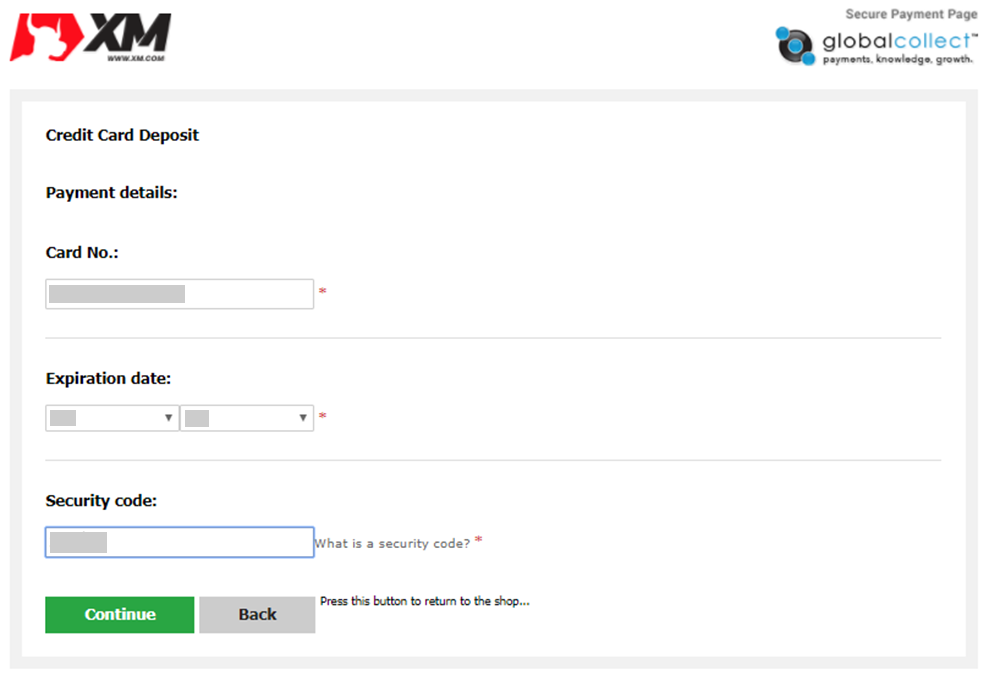 When the information is filled, click on "top up" the screen will appear this message "Please wait while the payment is being processed".
Be sure not to click the Back button on your browser while the processing payment screen is shown

Step 5: Deposit successfully completed
Deposit process is complete.
In case deposit is not reflected in the account?
Deposit methods other than credit card will not reflect in real time
Please contact XM Group support if deposit by credit card is not immediately reflected in the account
In addition, if the deposit is made from a foreign-based account that is not the same with residency address registered at XM Group, you need to attach card details and picture to XM Group support for security reasons.
Please note that the above provisions will apply if you use a credit card issued by a foreign country or when traveling abroad.


Next step after depositting fund to XM Group?
Once the deposit process is complete, your next step is to get your MT4 app downloaded from the XM Group homepage.
If MT4 is already available, you can skip this step.
MT4 is a software used for forex trading. Besides PC, MT4 also comes in an app version on other devices, such as smartphone or, tablets . Even if you go out or without a computer you can still trade Forex.
Upload account holder's identification documents (complete)
Deposit to real account(complete)
How to download MT4 for free (← Next step)
---