How to deposit money into XM Group account on smartphones
epositing funds into XM Groupaccount is very simple and takes 2 minutes to complete.
There are different ways to deposit funds to XM Group such as credit cards, VISA debit cards, bank transfer, allowing immediate deposit.
Before making deposit
To trade using a real account, you first need to upload account holder's identification documents.
If you have not uploaded account identification documents, you need to activate your account on the reference page how to upload account holder's idenficiation documents.
Once the account has been activated, the menu on the right side of the screen will show this message "Validated account"..
Step 1: Click the "deposit" button from My Account
After logging into My Account XM Group official account, click "Deposit" button on the menu on the left side of the screen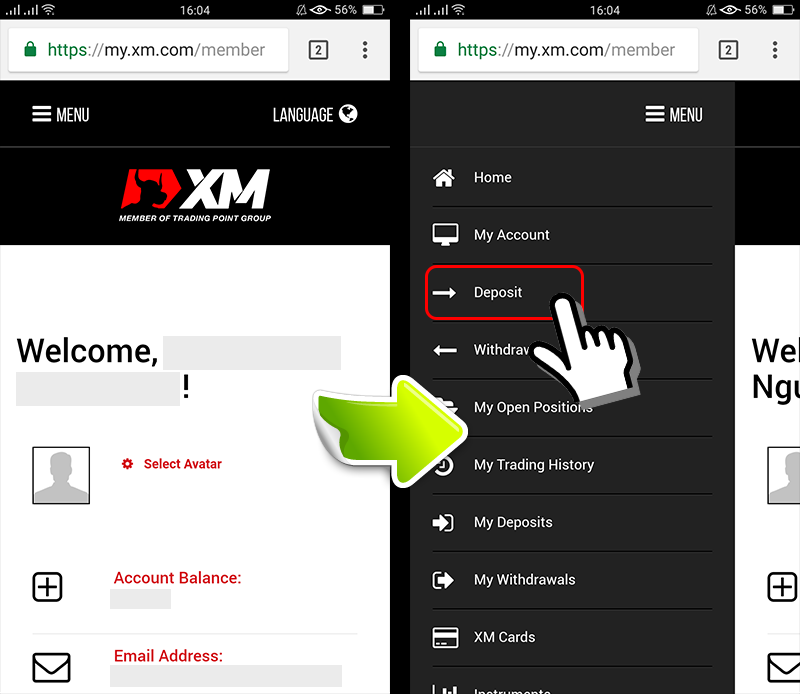 Step 2: Select deposit option
Select a deposit option of your choice
Credit card (including visa credit) is a recommended option for deposit because it's simple and allows fast deposit.
Deposit methods
Processing time
Deposit fees
Credit Card
Debit card
Immediately
Free
International bank transfer
3-5 working days
Free
Skrill
(MoneyBookers)

Immediately ~ within 1 hour
Free
Clients bear payment fees
Neteller
Immediately ~ within 1 hour
Free
Clients bear payment fees

Step 3: Enter the amount you want to deposit
Below is how to deposit using credit/debit card.
Enter the amount you wish to deposit to your account.
Use your registered currency when opening an account. ※If you have selected trading currency is USD, then enter the deposit amount in USD.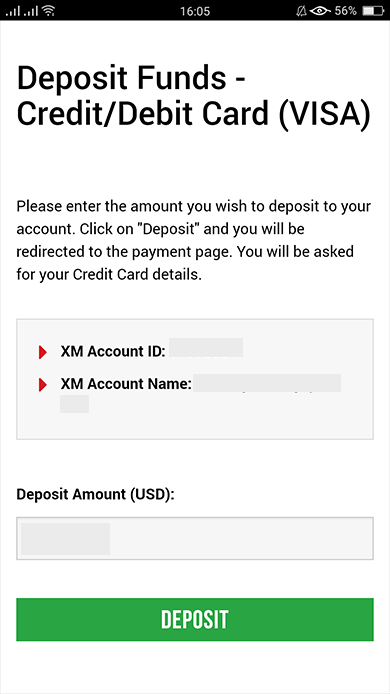 After checking the ID, account name and the amount of money needed to deposit, click "Deposit" and you will be redirected to the payment age. If the information is correct then you click the "Confirm" button.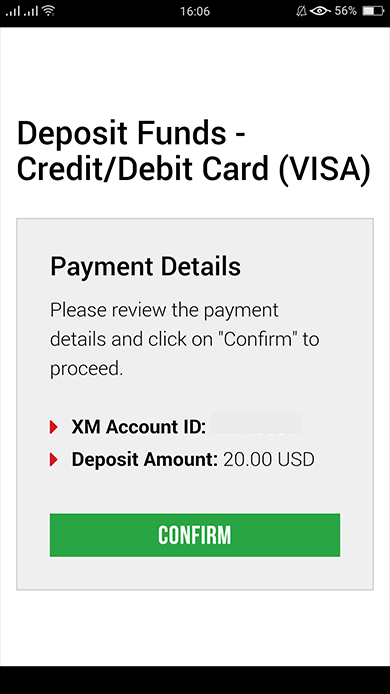 Step 4: Enter credit card information
Please enter your credit card (or debit card) information because the system will automatically direct you to the card information input page.
If credit card was previously charged, some information should have been previously entered. Confirm the information such as expiry date, …make sure all information is correct.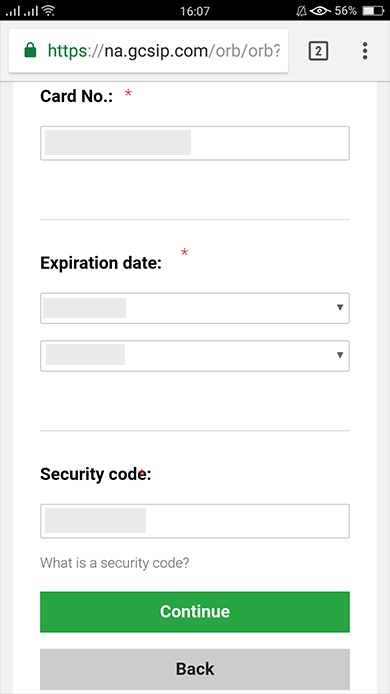 Once the information is filled, Click the "Deposit" button a message will appear "please wait while we process your payment".
Please do not click Go back button on the browser while payment is being processed.

Step 5: Successful deposit
Then the process is complete.
If the payment is not reflected in the account.
Deposit methods other than credit card payment will not be reflected immediately.
Please contact support team at XM Group if the payment is not reflected in the account.
In addition, if your account is deposited from a foreign country other than your registered permanent resident address, you will need to attach a credit card details sheet and a credit card image to the support team for security reasons
Please note that the above provisions will apply in the case of credit card issued in foreign country or when traveling abroad.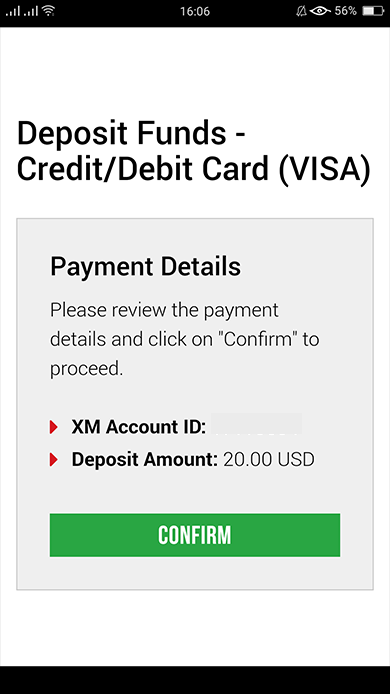 ---