View the MT5 screen on the computer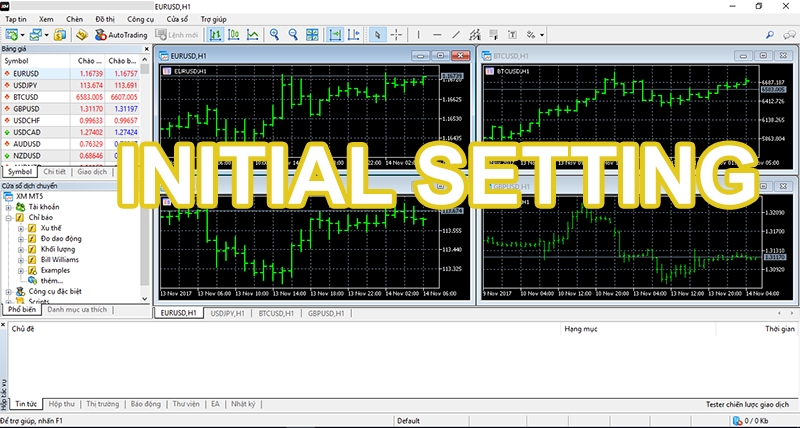 MT5 is a new version of MT4, a high-performance trading tool, viewing MT5 is almost identical to MT4.
In particular you can trade immediately after installation without initial setup. This article introduces how to view the MT5 screen on a computer.
How to view the MT5 screen on your computer
The MT5 screen is divided into 6 large tabs (frames). If you have not used the MT4 or MT5 tools, then you will find it difficult but if you have memorized the function of the 6 tabs (frames) it will be very easy.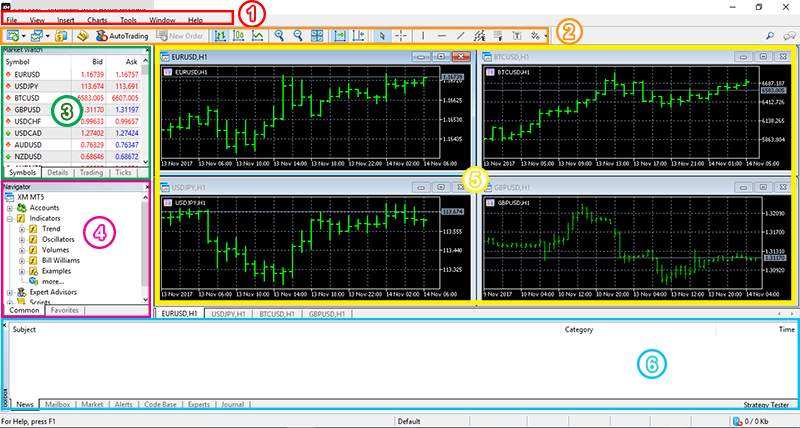 1. Menu tab

The area from the "File" "Help" displayed on the MT5 screen is menu. You can also use shortcut (display folder by by pressing "Alt + FMT5").
"File" is the most used. When logging in to another trading account or opening a new chart, you start with File menu.
2. Tool bar

Tool field key functions related to chart such as displaying new charts, placing new orders, displaying charts, changing timeframe.
The frequently used feature is the ability to display new charts, place new orders, change time frames, or add a trend line.
3. Show market watch
Displaying the stock price list of currency pairs or CFDs. You can place a new order by double clicking or right-clicking on the desired denomination from this list.
In the initial displaying, all currency pairs will not be displayed, so you need to follow the following step: "Right click" → "Show all" on the price list pane.
4. Navigator
Can confirm account list, index, EA, ..
Frequently used items are "Account" to change account and "Indicator" to display different types of indicator on the chart.
The old MT4 interface becomes harder to see because the indicators are divided into folders. Moreover, since MT4 and MT5 are not compatible, MT4 indicators can not be used on MT5.
5. Chart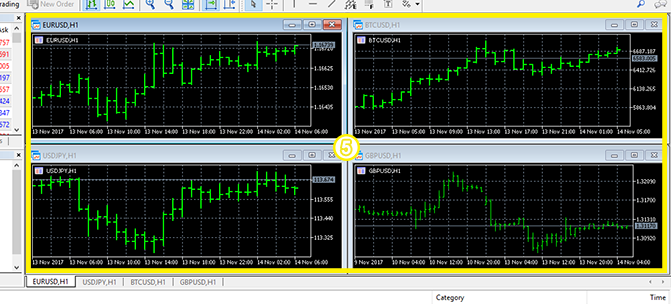 MT4's largest screen displays the chart. It is possible to simultaneously display charts of the currency pair, but it will be easier to see with the default 4 frames.
Of course you can expand the chart of a currency pair. Being able to customize according to user preferences is a highlight feature of both MT4 and MT5.
6. Action box

Is the frame shown at the bottom of MT5, it can check balance and information related to the account such as balance, asset or list of traded orders and trading history.
By double clicking on the order, you can either change or close the order in this frame . There are 12 cards in the frame, but only two cards are commonly used, "New" (trading) and "Market (history)".
---