How to display Fibonacci Pivot in MT4
What is Fibonacci?
It is the series of integers that is named after the Italian mathematician Leonardo Fibonacci.
It may look like a mystery but there are a lot of evidence of Fibonacci numbers recognized in nature such as plant petals, spirals in sunflower or the spiral patterns of shells.
Most of investors made their decisions based on either exchange rate volatility or laws (rules) of nature (economics, market) as well as temporary trends.
Such a way of predicting exchange rate (market) volatility is called Fibonacci Retracement.
What is Fibonacci PIVOT?
Fibonacii PIVOT is an original indicator that has been illustrated in the book "Mr. Shirofukurou" by a famous Japanese author about his art of making money with FX Metatrader.
Applying the Fibonacci agonistic into PIVOT calculation can help improve the accuracy significantly.
Download Fibonacci PIVOT Install Fibonacci PIVOT C_Drive → Program Files → XM MT4 → exparts → indicators
How to display Fibonacci PIVOT
It is simple to display Fibonacci PIVOT.
In only 4 steps "Insert" → "Indicator" → "Custom" → "Fibo_zone_v1".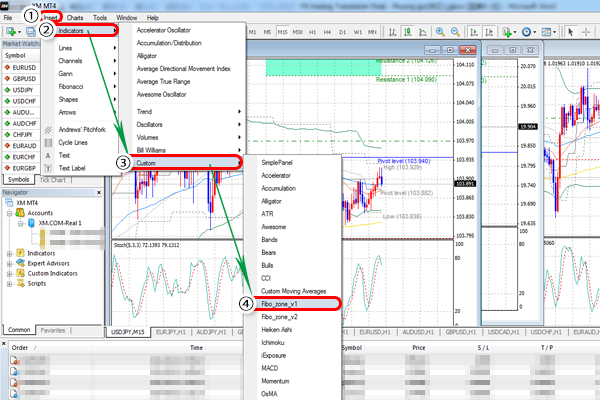 In the Settings screen select "period 1" in Inputs tab and type in "1440".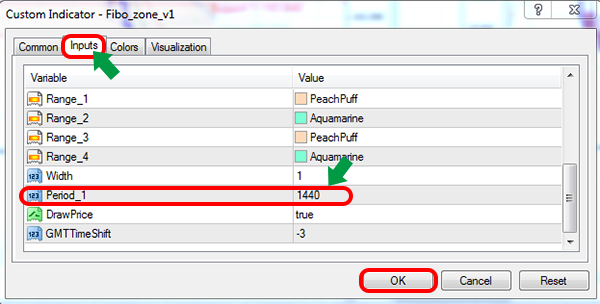 Installation of time frames in MT4 set as below.
1 minute:1
5 minutes:5
30 minutes:30
60 minutes:60
4 hours:240
Days:1440
Weeks:10080
Months:43200
Choose the time frame setting as your preference.
---